Recent Kitchen Spraying Jobs
Some before and after photos of a stunning kitchen transformation from brown to a modern, crisp, gloss white.
Maggie Mays –  Public House, Trongate, Glasgow
This large scale project involved both internal and external work, from preparing and finishing the bar area and floor, to giving the exterior of the property a refreshed look. The carefully planned works are detailed in the gallery below.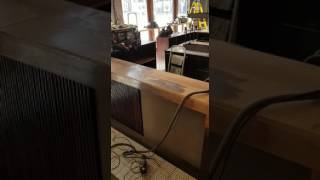 The Bar – Preparing and Sanding the Bar
The Bar – Bar Being Stained and Finished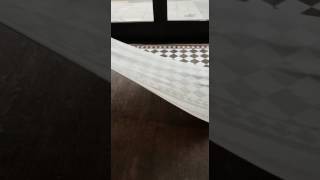 The Floor – Putting the stencil down, getting ready to spray the floor
The Exterior – Undercoat and Finish
A Residential Colour Change
Asked to change the colour scheme of a house in the Glasgow region, King Specialist Coatings were able to carefully change the colours of the white external doors and canopy to lichen. The results freshen the house up, and give an element of sophistication to the property.
Residential – House in Thorntonhall – Colour Change from White to Lichen
Refreshing a Reception Desk
King Specialist Coatings were tasked with bringing a decorative reception desk back to life. Carefully preparing the surfaces, and priming the desk, our team carefully painted this beautiful desk in Morrell Black with incredible results.
Refreshed Reception Desk
Shop Front and Roller Shutter Spraying – Nisa Stores in Stirling
We were contracted to carry out extensive shop front work, covering all aspects of the exterior of the store. During the stores' rebranding process, King Specialist Coatings carefully sprayed the entire shop front area, inclusive of window frames and shutters as well as all doors.
Shop Front and Roller Shutter Spraying
Lift Panel Spray Work
The video below demonstrates our experienced sprayers spraying a lift panel.
News 24
Internal and External Spraying at News 24 location in Glasgow.
News 24 – Glasgow
Tesco Express  – Glasgow International Airport
Tesco Express – Glasgow International Airport
Debenhams Store
Debenhams Washroom – Glasgow
Fire Surround
Power Washing / Spraying
Power Washing / Spraying
UPVC Kolorbond Spraying
UPVC with Kolorbond